airlines > Azerbaijan Airlines
An issue with Azerbaijan Airlines?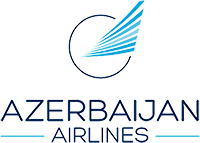 Here's a guide through people's most frequent issues with Azerbaijan Airlines and how to sort them out. Get all the available contact options to reach Azerbaijan Airlines and how to file a complaint.
Azerbaijan Airlines telephone numbers
| | |
| --- | --- |
| London Sales Office | 1414160-888 |
Azerbaijan Airlines is a national airline company founded in 1992. It operates scheduled and charter flights within Azerbaijan and to international destinations. The airline has its head office in Baku, Azerbaijan. Azerbaijan Airlines commenced operations in the United Kingdom in 2009. The airline offers flights from London to Baku. Azerbaijan Airlines operates an Airbus A319 aircraft on the London-Baku route. The airline offers a comfortable cabin experience with excellent service standards.
What is Azerbaijan Airlines Covid policy?
Due to the Covid-19 pandemic it is important that you check each airline travel updates before booking a flight as well as right before your flight. Here is all you need to know regarding you Azerbaijan Airlines general rules due to Covid-19.
What are the terms for reimbursement for cancelled or delayed flights with Azerbaijan Airlines?
If you had a problem with a flight, such as a cancellation, delays or you were denied boarding you should ask if you are eligible for compensation. These may include a hotel room to wait for the next available flight, phone calls, refreshments or a choice for reimbursement. Go to this link to know more about Azerbaijan Airlines refunds and exchanges.
How do I check in for my Azerbaijan Airlines flight?
If your flight is coming up we recommend you do your check-in online, this way you will be able to bypass lines and avoid some of the airport hassle. To check-in to click on this link. Azerbaijan Airlines check-in is available 24 hours from departure and it closes 60 minutes before departure.
What is the status of my Azerbaijan Airlines flight?
To track an Azerbaijan Airlines flight go to this link.
How to contact Azerbaijan Airlines?
To contact Azerbaijan Airlines, either to file a claim, ask a questions or any other reason, you can do so by calling : 1414160-888 (London Sales Office)

You can also reach Azerbaijan Airlines online through this options: