airlines > Icelandair
An issue with Icelandair?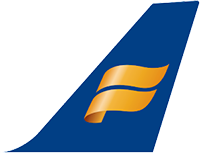 Here's a guide through people's most frequent issues with Icelandair and how to sort them out. Get all the available contact options to reach Icelandair and how to file a complaint.
Icelandair telephone numbers
| | |
| --- | --- |
| Customer Services | 2078741000 |
Icelandair is a unique airline company that has origins in Iceland and a strong presence in the United Kingdom. The company was founded in 1937 by two brothers, Loftur and Sigurdur, who were both pilots. They started the airline with a single plane and used it to transport fish between Iceland and the United Kingdom. Icelandair continued to grow over the years, and eventually began to offer passenger flights as well. Today, the company operates more than 20 planes and serves destinations all over Europe.

One of the things that makes Icelandair stand out from other airlines is its focus on customer service. The airline has been voted one of the best in the world for its friendly staff and comfortable planes. In addition, Icelandair offers a variety of unique features that set it apart from other carriers. For example, passengers can stop in Iceland on their way to other destinations and enjoy some of the country's famous culture and scenery. Icelandair also has a generous baggage policy, allowing passengers to bring one free checked bag and one carry-on bag.

Overall, Icelandair is a reliable airline with a long history of providing quality service to passengers. If you're looking for a unique travel experience, be sure to check out what Icelandair has to offer.
What is Icelandair Covid policy?
Due to the Covid-19 pandemic it is important that you check each airline travel updates before booking a flight as well as right before your flight. This is Icelandair Covid-19 travel information.
What are the terms for reimbursement for cancelled or delayed flights with Icelandair?
How do I check in for my Icelandair flight?
If your flight is coming up we recommend you do your check-in online, this way you will be able to bypass lines and avoid some of the airport hassle. Search for the Check-in tab on Icelandair website to begin the process. Enter your last name and booking reference.
How do I manage my Icelandair flight booking?
If you have already booked your flight you can add baggage, select your seat, change your flight, the passenger details, view the booking, insure your travel, select special meals among others online. Go to this link to manage your Icelandair booking. Enter your last name and booking reference.
What is the status of my Icelandair flight?
Click here for Icelandair flight scehdule.
How to contact Icelandair?
To contact Icelandair, either to file a claim, ask a questions or any other reason, you can do so by calling : 2078741000 (Customer Services)

You can also reach Icelandair online through this options: