airlines > Iran Air
An issue with Iran Air?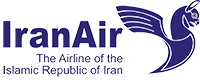 Here's a guide through people's most frequent issues with Iran Air and how to sort them out. Get all the available contact options to reach Iran Air and how to file a complaint.
Iran Air is an airline company that has origins in Iran. The company has been operational in the United Kingdom since 1995. Iran Air offers flights between various destinations within Europe and the Middle East. The airline company is known for its high-quality service and for providing passengers with a comfortable experience.
How to contact Iran Air?
doesn't have any customer services telephone number. In order to contact the company, you need to do it online. You can do so though: