telecommunications > Three
An issue with Three?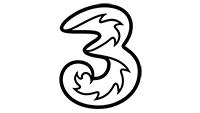 Here's a guide through people's most frequent issues with Three and how to sort them out. Get all the available contact options to reach Three and how to file a complaint.
Three telephone numbers
| | |
| --- | --- |
| Customer Services (from three phone) | 333 |
| Customer Services | 0333 338 1001 |
| From Abroad | +44 7782 333 333 |
| Mobile broadband (from three phone) | 500 |
| Mobile broadband | 0333 338 1003 |
| Business customers (from three phone) | 337 |
| Business customers | 0800 033 8033 |
Three is one of the UK's leading telecommunications companies, providing mobile phone, broadband and TV services to customers across the country. Three's mobile network offers some of the fastest speeds and most reliable coverage in the UK, making it a popular choice for smartphone users. Three also offers a range of competitively-priced broadband and TV packages. The company has won numerous awards for its dedication to providing a great experience for its customers, and its team of helpful and knowledgeable staff are always on hand to help with any queries or problems. If you're looking for a telecoms provider that can offer you everything you need at a great price, Three is definitely worth considering.
How to terminate your contract with Three?
If you're looking to cancel your contract with Three in the UK, there are a few things you need to keep in mind. First, you'll need to give Three's customer service team a call and let them know that you'd like to cancel your contract. They'll then advise you on the steps you need to take in order to cancel your agreement. Next, you'll need to make sure that you don't have any outstanding charges on your account - if you do, you'll need to pay these off before your contract can be officially cancelled. Finally, once everything is squared away, Three will send you a final bill which will include any early termination fees that may be owed. Once this bill is paid, your contract will be officially cancelled. So, if you're looking to break free from Three, just remember to give their customer service team a call and have your ducks in a row before moving forward.
How do I return or exchange a device with Three?
If you bought a device from a 3Stores you have 7 days to exchange it, you can only do this at the same store you bought it from in the first place. Keep in mind that it has to be in "as new" and "unused" condition. Meaning, it wasn't used for calls, texts or internet. As for Apple phones you can't remove the cellophane wrapping. Also include all accessories, manuals and receipt.
If you bought it online you have up to 14 days.
If you purchased a device from a retailer other than Three you have to contact them for their returns and exchange policy.
I don't know what Three is charging me for
If you are a Three customer and your bill is higher than expected it could be because of the following:
If it's your first bill it's because they charge you with up to 9 days as well as your monthly charge. If it's your last bill, it may be because they are including the 30 day notice period and any other additional charges.
If it is at any other time, your promotional period may have ended. The company may have reviewed their monthly charges.
If you traveled, this may be because of roaming.
You reached your data allowance, and now you may be charged for extra data use.
You may have sended a text to an email address or attached a file to a text message, if so, extra rates may apply because this is outside Three text allowances.
How to contact Three?
To contact Three, either to file a claim, ask a questions or any other reason, you can do so by calling : 333 (Customer Services (from three phone)) 0333 338 1001 (Customer Services) +44 7782 333 333 (From Abroad) 500 (Mobile broadband (from three phone)) 0333 338 1003 (Mobile broadband) 337 (Business customers (from three phone)) 0800 033 8033 (Business customers)

You can also reach Three online through this options: